2015 Easter Youth Program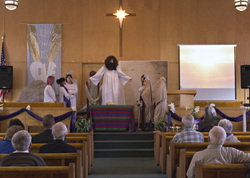 What a special program as our youth shared the story of Jesus' victory over death. Congregational singing, He's Alive Video, "scenes" from Jesus' life and the portrayal by our youth made for a very special presentation. The youth have grown so much, asking for and "creating" speaking parts so THEY can tell the story!
One individual shared afterward how they were moved to tears, because the video, was a song that they used to sing with their dad!
God continues to touch lives and bring back former members, families and "snowbirds" for a wonderful Easter morning!

---