Flint Water Assistance--
THANKS TO ALL WHO ARE HELPING!
Special Thanks to those who have helped US, help OTHERS:
Lowell Mason
--
Son of a former preacher in the 1940's & 50's; this "timothy" heard about the problems in Flint and has helped secure over
80,000 bottles of water to be distributed and working to do more!
I.D.E.S.
--
helped with delivery cost of the first truck load of water back in October of 2015.
Recently forwarded nearly $10,000 worth of water filters from TN; those have been
processed as appropriate.
Hope and Encouragement for Humanity
--
Has transported two truckloads of water, covering the cost of the second and willing to do more!
SISTER CHURCHES:
Recently received donation and will be used to help purchase additional replacement water filter cartridges for the people of Flint.
Getting Help:
The Detroit Free Press has come out with a booklet containing FAQ and answers, along with guidance of where to get help: http://www.freep.com/story/opinion/contributors/2016/02/28/helping-flint-information-delivered-direct-people/80998850/
​


FACTS ABOUT LEAD POISONING:
http://www.freep.com/story/life/family/kristen-jordan-shamus/2016/02/13/what-every-parent-needs-know-lead-poisoning/80000814/
​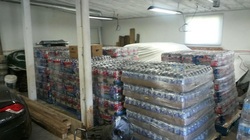 ---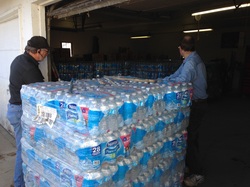 UPDATE: 1/21/2016
State announces they are finishing going through all of Flint...
We are presently still scheduled to go with the American Red Cross on Monday, January 25 from 1-4 pm. This has been changed from going out with the Sheriff's Department. Please contact me for time and place to meet if you would like to volunteer!
---
WE'RE BACK!!!
Lowell Mason, (father was preacher at Pine Run in the 1940's & 50's) is helping to secure another semi-truck of bottled water for the people of Flint. This will be delivered to the Southeastern Michigan Food Bank who will then get it out to the distribution centers.
Tentatively on Mondays from 1:00 pm to 5:00 pm we are going to be scheduled to work with the Genesee County Sheriff's Department in distributing water door to door. Any volunteers that would like to join us, let me know and I will give you the specifics on when and where to meet.
I.D.E.S. ASKS FOR OUR HELP!
International Disaster Emergency Services (based out of Indiana) has contacted us regarding a donation they received of water filters. We are scheduled to pick them up on February 27th and see that they are passed along to families in Flint.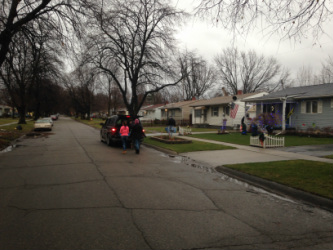 UPDATE: 12/22/2015 Yesterday we finished our final distribution-- all the water is gone. Results we have heard back is there is no lead or copper in the water that's been tested in these neighborhoods.
People came out to thank us. Single mom to Senior Citizen expressed how helpful as they had difficutllty getting out and having the water delivered each week was a blessing. One woman drove after us and stated, "truly you are the hands and feet of Jesus!" God blessed them and us throughout this process.




---
UPDATE: 12/15/2015 Three out of four streets done on Monday. Other scheduled for Thursday. 300+ households and we have one more week to go as we finish off our supply.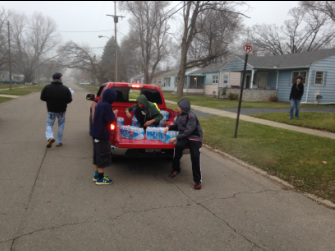 UPDATE: 12/8/2015 First report back from one of the water test was: Zero Lead and Zero Copper!! Another resident reported how much improved their water is. It appears that we will be finishing our water distribution by Christmas! 300 households in Flint have been helped again this week with cases of water. We appreciate our youth and adult volunteers!
---
UPDATE: 12/1/2015 Darkness arriving earlier has caused a change to our distribution schedule. We will be handing out water on MONDAYS to: Arizona, Wyoming and Colorado Streets. On TUESDAY we will be distributing to Montana street in Flint. Around 300 homes are being assisted on a weekly basis.
Our latest contact with the Flint Water Plant indicates that they are still awaiting the water sample results from these neighborhoods. Any resident receiving their results, are asked to contact the church so that we can inform other residents of the current status of the water supply.
UPDATE: 11/24/2015 Arizona, Wyoming, Colorado and Montana all received water. Even the snow did not stop the 300 homes from receiving assistance. Special thanks to the 11 volunteers that delivered water, along with Raymond Berry who helped load the trucks! Seven weeks in and still have at least 2 more weeks to go!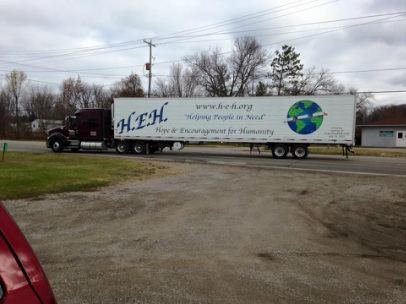 UPDATE: 11/17/2015 A new shipment of water was donated and arrived on the 14th. Twenty-two pallets of water were unloaded and put into storage for distribution.


Monday the 16th, we distributed water to over 300 homes in Flint. We began our deliveries with 2 streets and have now expanded to 4.
We also worked with the Flint Water Plant to arrange the testing of 5 homes in each of the neighborhoods where we have been working. Samples will be provided by the residents and tested. Results will come back in approximately three weeks and the water plant will have information on the quality of the water in that area.
---
UPDATE: 11/10/2015 The State is now urging every resident to get their water tested. Testing bottles are free from the Flint Water Department. They are finding great variations between neighborhoods, buildings and within buildings (one elementary had 22 faucets with no indications and 9 with high levels). For more info read: http://www.detroitnews.com/story/news/local/michigan/2015/11/10/flint-water/75507860/


On November 9th, we distributed to around 250 households, bottled water. This included the neighborhoods of Colorado, Wyoming, Arizona and a part of Montana. On Saturday, November 14th, we are to receive an additional 22 pallets of water for distribution.

UPDATE: 11/3/2015: The Michigan Health Department along with the Genesee County Health Department announced yesterday, that they recommend people continue to use filtered water for drinking, cooking and washing fruits. We were pleased to be able to provide 200+ households with a case of water to help get them through the week. Took at little longer with the additional homes (have grown from 120+ a week to 200+ a week) and one of our regular volunteers and 2 neighborhood volunteers unable to help. We were thankful that Raymond Berry helped us not only load, but also brought his truck to help us deliver. Neighborhood continues to be appreciative and helpful.
We have been in contact about arranging the delivery of another truck of water so that we can continue to support these neighborhoods throughout this crisis.
We also shared with those that were home (on cards for those that weren't), that we are looking into starting a financial Bible Study in those neighborhoods for those interested in stretching their resources. Be praying about this as we are meeting with a Christian agency to work with us and Dave Ramsey.
UPDATE: 10/27/2015 We were pleased to be able to add 1 and 1/2 blocks of Arizona to our water distribution this past week. We have one week of delivery scheduled remaining. Providing that the water is found acceptable within the next week, residents of the neighborhood will be able to return to using tap water. IF IT IS NOT ACCEPTABLE, we received word on October 27, that another shipment of water would be available to us if we needed; allowing us to continue to help these neighborhoods through this crisis!
FLINT RECONNECTS TO DETROIT WATER
-- As of Friday, October 16, 2015, the city of Flint is being provided with water from Detroit. Officials warn that the water will not be drinkable for up to 3 weeks. Read more by clicking on the link!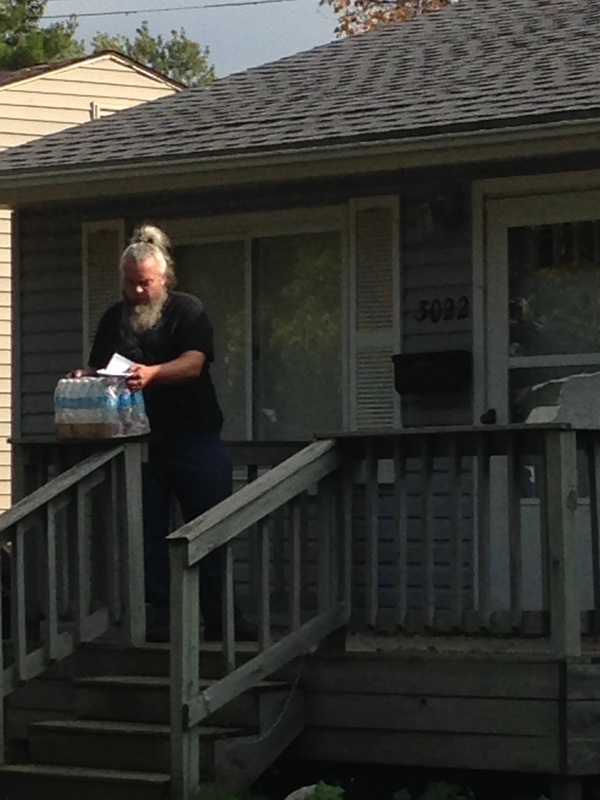 The Genesee County Commissioners have issued a Public Health Emergency declaring that Flint residents are not to drink their water. The State of Michigan will spend over a million dollars on water testing, providing filters to assist residents until the new water supply is made available. The soones of hooking up to a new supplier will be at least a year.

A Timothy of Pine Run, Lowell Mason, has a mission that supplies food and water to those in need throughout the United States. He has contacted us about sending a truck of water for the people of Flint. We are presently working with IDES (International Disaster Emergency Services), out of Indiana to help us with the financing for the truck. A local believer is providing a heated storage area for the water. VG's is providing a pallet jack. We are presently searching for a fork lift (we now have 2 individuals we can call on: ABC Supply is willing to help and then a friend of the person who is providing the storage area!). We will also be looking in to procuring extra water as needed throughout this crisis.

HOW OUR PROGRAM DIFFERS FROM "WATER COLLECTION" EFFORTS:
Neighborhood(s) have been selected to receive the water. People from the church will go home to home through those neighborhoods to distribute the water. They will return each week with a new supply to help these families until safe drinking water is available. One resident shared their water bill was over $170; and they are unable to use it for drinking or cooking. For a city that ranks 2nd in the nation in poverty, this combination of needing bottled water and a large water bill for unsuitable water besides presents a tremendous hardship. Working with others, we are looking to help several families through this time.
How can you help?
* Pray
-- God to provide resources
-- God to provide workers to unload
-- God to provide workers to distribute
-- God to touch lives of those in need
-- Families to be helped and drawn closer to God
* Volunteer
-- Help Unload
-- Help transport and/or distribute to neighborhoods
-- Help purchase additional water
WEEK 2 UPDATE:
See pictures in the above Gallery!
Appreciated Ray Carlson loaning his truck, so Michael and Toby Desgrange, Steve Lepeak and Larry Sandusky could load water, aided by Raymond Berry for distribution. Couple families had called to find out if we were coming back and families were thrilled and waiting as we arrived in the neighborhoods. Special thanks to "Brian" and "Shane" who left their homes, and volunteered to help pass out water to their neighbors. They were joined by Zach and Jacob Desgrance, Savannah Littlejohn, Jewel Gray and a couple of their friends. Neighbors helped us remember which homes were vacant, and some requested additional water for friends or family members in the flint area who needed assistance.
One person has requested transportation so they can start attending church!